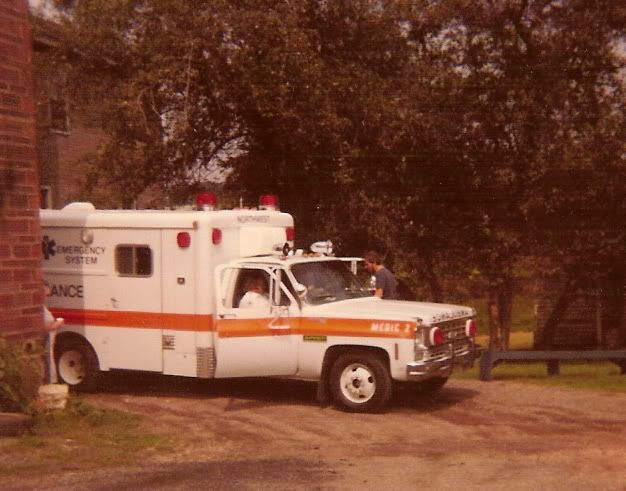 by
Annette Dashofy
Back in the 1970's there was a TV show called
Emergency!
about a fire/rescue squad. I loved that show. And much the way the CSI franchise has spawned an interest in forensic science in the college-bound youth of today, I was drawn into the emergency medical services.
I worked as an EMT on our local ambulance for five years.
During that time, I witnessed all aspects of life and death. Unlike my favorite TV show where excitement abounded, most of our on-duty hours consisted of playing cards (I became a euchre wiz), washing the ambulances, and watching TV. Often the high point of our day was deciding which of the local diners to order lunch from. Fridays, there was no decision to be made. Friday was spaghetti day at Peppy's.
But when the phone rang and our dispatcher grabbed her pen and started asking certain questions of the caller, we knew it was time to get serious. If you're looking for an adrenalin rush, nothing beats riding in an ambulance, emergency lights cutting swatches through the night, sirens screaming as you respond to an automobile accident with injuries. We never knew what we were going to find until we got there. A number of times we would roll up to a scene and I'd think, there's no way anyone could have survived this. And yet there were people alive in those vehicles, depending on us to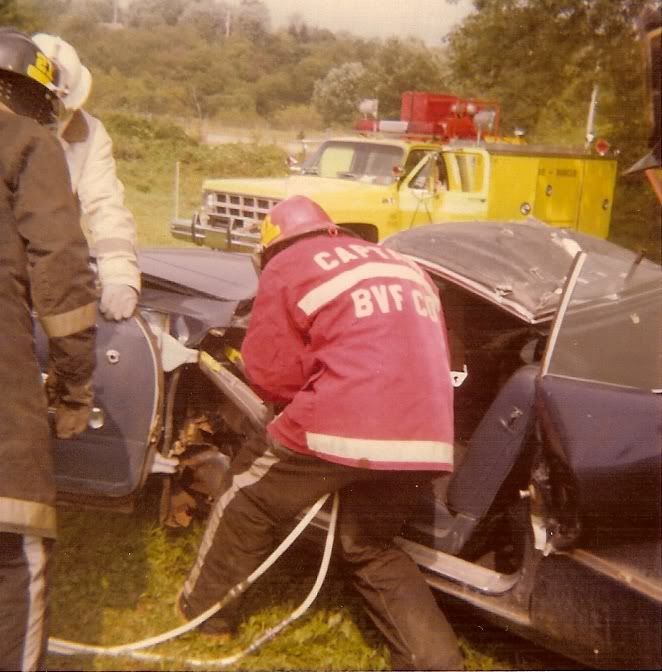 keep them that way.
I've tried to think of the one worst incident that I was on and I can't quite nail it down. There was the guy working on a garbage truck who climbed up on top of the vehicle while it was moving. He was looking back, grabbing apples from trees when the truck passed under a train trestle low enough that it caught him on the back of his head and flipped him off the truck. And he was alive at the scene, even though his skull was fractured. The EMT holding traction on his neck was cradling brains in his hands. No, the victim did not survive. But he lived to make it to the hospital.
Some of the hardest runs were the ones involving people I knew. A neighbor went into cardiac arrest when I was on duty and got the call. Being a lowly EMT, I could do CPR, but not administer drugs or use the defibrillator. Back then, only a paramedic was qualified to do such things. Thankfully, that day I was partnered with my buddy Bruce, who happened to be a paramedic. That neighbor survived that heart attack.
The most gruesome calls often involve motorcycles. I've seen more than my fair share of motorcycle accidents. You will never get me on one of those death traps. One gal who was a passenger on a bike that wiped out had injured her leg. We cut off her boot only to find an ankle and foot so badly damaged that her sock seemed to be the only thing holding it all together. She survived. Others weren't so lucky.
But hands down, the most heartbreaking and scariest calls are those involving kids. A teenage boy was riding his bicycle one night on a dark stretch of well traveled road. The driver of the car never saw him until it was too late. I have one very vivid memory of being in the emergency room working frantically with the doctors to save the kid, bearing down on the boy's femoral artery with all my strength to try to stop the blood loss from that leg.
You're going to ask if the boy made it. Honestly, I don't remember. Often we never learned how things turned out in the end. Once we left the patient in the ER, unless a family member contacts us to thank us for our help, we never knew what became of the patient. If they didn't make it, we read about it in the obits just like everyone else. It feels like turning the TV off fifteen minutes before the show is over.
There were two other calls I remember involving kids. One was an adorable little girl who went from having difficulty breathing when we received the call to NOT breathing when we rolled up. She responded to pulmonary resuscitation. That one was a save. That one felt great. Times like that, I remembered why I was there in the first place. It wasn't because of my crush on
Johnny Gage
any longer.
And I delivered a baby once. The mom waddled out to the ambulance as we pulled into her driveway and screamed that her baby was in the house. I was partnered with Bruce again. He grabbed the over-sized tackle box we used to carry our supplies and ran for the door. However, I was looking at the head shaped bulge in the woman's sweatpants between her legs. I let out a yelp to Bruce to come back. Seems she had a toddler in the house. The real baby was in the process of delivering itself in her pants. We grabbed the gurney out of the ambulance, laid her down on it and hoisted it back in. I slammed the back doors while Bruce cut away the sweat pants. They were the only thing holding the infant in place and she slid out into my hands.
After that, any time Bruce or I saw the mom pushing the baby in a stroller through town we'd report back that we'd seen "our" baby.
Those five years were an incredible run. I started that job as a naïve teenager and left it wiser and more cautious, having seen what can happen to the human body in a split second. I also left it with a deep appreciation for the men and women who work all aspects of the emergency services be it fire, rescue, or police. You have to have a special mind set.
And honestly, I think you have to be just a little nuts. I know I was.