by
Annette Dashofy
It's pretty well known that I'm a country mouse. I'm used to looking out my kitchen window at green pastures and a herd of cattle. The scene out my bedroom window is more green fields and an occasional Great Blue Heron.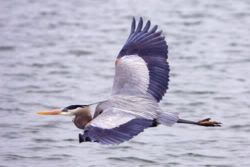 But every so often I'm forced to step out of my comfort zone of country life to spend some time in the city. With my mom in Allegheny General Hospital recovering slowly from major surgery, this week has been one of those times.
Anytime anyone in my family needs to go to Pittsburgh, I'm the one who gets the call. I like the city. I feel comfortable strolling the downtown streets, although it definitely feels like foreign territory.
I'm not crazy about rush hour traffic, but I can deal with it. I don't panic if I get lost, even though Pittsburgh is notorious for making it difficult to find your way around. Most cities are built in squares. Make a wrong left turn? Make three more left turns and you're back where you started. Do that in Pittsburgh and you're likely to end up in Wexford. I've been lost enough in the city that I can usually find something that looks familiar and regain my bearings.
I have even learned how to negotiate Penn Circle, which I used to refer to as the Bermuda Triangle of Pittsburgh.
City life fascinates me. Or at least the vignettes I catch as I drive by: the residents sitting on their stoops which often are little more than a step down onto the sidewalk from their front door; the community of homeless folks camped under an overpass; the old man balancing his grocery bags on the handlebars of his bicycle, darting through traffic. I love driving the variety of cultures in the city's neighborhoods. I'm looking at it all through the eyes of an outsider, I know. But my writer's curiosity allows me to imagine what that kind of life must be like.
Then there are the little events that you only find in the city. I was driving home from the hospital on Saturday and stopped for a red light. Music filled the air, blasting through my closed windows. I automatically assumed someone had cranked up their radio. But it didn't sound right. That was when I noticed that a band had set up in a parking lot to my right, with a good-sized audience gathered. It was a parking lot. Not your normal run-of-the-mill concert venue. I wondered if some local garage band decided to throw an impromptu show when they couldn't get booked into the corner club. I don't know. But I thought, "that's not something you would see out in the country."
The band was pretty good, by the way. Someone should hire them.
Monday, I had to contend with rush hour traffic on Liberty Avenue. I should have stuck with my usual route of Fort Duquesne Boulevard, but I was feeling adventurous. Pittsburgh is also notorious for jaywalkers. I encountered a few dozen of them. Then there was the lady who was crossing the four lane street (legally, at a light), moving at a pace that…well…do you happen to remember Tim Conway's old man routine on the Carol Burnett Show? He'd have beaten her in a foot race. The lady was half way across when the light changed. A bus was coming.
I didn't hear about anyone getting flattened on the news that night, so I assume the approaching bus stopped for her. If she'd tried to cross Route 18 in front of my house, she'd have been mowed down by a 4x4 pickup. No doubt about it.
I envy some things about living in the city. Stores, shops, restaurants, and theatres all within walking distance intrigue me. Where I live, I have to drive at least a half hour to get to anywhere worth going. If I run out of an ingredient when I'm cooking supper, there is no running to the corner store. Instead, I have to make-do without or change the menu.
Could I pull up stakes and live in the city? I think so. It would make for an interesting experiment anyway. But I do think I'd soon yearn for the green open spaces of my rural upbringing. What about you city mice? Would you be able to move to the country if you had to? Or would the quiet and spaciousness drive you bonkers?