by
Donnell Ann Bell
I have a theory. A pretty good one if I do say so myself. Inside every law enforcement type there's a storyteller waiting to be born. Don't believe me? Just wait. After I share the following tale, I think you'll agree I'm on to something.
First off, I don't live in Pennsylvania, I blog here on occasion because Annette Dashofy is my online critique partner and I find her work is a joy to read. So my experience mainly comes from El Paso County, Colorado, but the more I work with Working Stiffs, I see that when it comes to law enforcement, we're really not that far apart.
So here's where I prove my case. Christina Herndon is the Deputy Coroner for El Paso County, and she's one busy lady. She's also my friend, with an irreverent sense of humor, I suspect because of her job. It's a protective mechanism. She can either laugh or she can cry. I enjoy her because she makes me laugh, and naturally, she always makes me think.
Chris is also a very generous soul. I found this out when I would be typing away on a manuscript, I'd come to a point where I'd groan and say, "I'm not sure how to kill this guy." I would pick up the phone, call the Coroner's office, Chris would answer, saying, "You're who? You want to know how to do what?"
Instead of having me arrested, she became my friend. And that's troublesome for people in law enforcement, because once they befriend me, they end up befriending a whole lot of writers and speaking at a whole lot of functions. With that said, I'd like to tell you why I determined that if you're in law enforcement, you're also a closet writer.
A few months back, Chris told me that she teaches coroners how to conduct inquests, and naturally, I found this fascinating and abused our friendship further and said you need to put on a workshop for Sisters in Crime.
She never gets mad, she just says okay, and as we put our heads together, a mock coroner's inquest came to life, with me as the melodramatic producer and Chris the "acting coroner" who also filled in the technical blanks.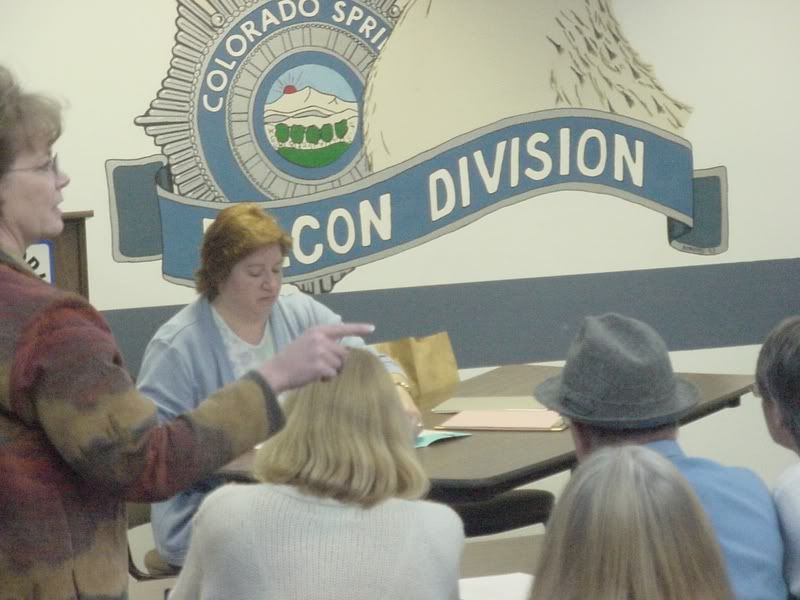 Now, I've talked about Chris, I'd also like to talk to you about fellow members of the Rocky Mountain Chapter of Sisters of Crime. Don't tell any of them that I said this – "ahem," – but they're hams. Really big hams as well as darn good sports and actors. I told them what Chris and I were contemplating, and as our skit came together, my chapter mates good-naturedly did as they were told. Below is the cast of characters, and the set up that Chris and I wrote that turned out to be hysterical to watch and equally fun to participate in. Without further ado, I give you…
The Demise of Penelope PierceDeceased:
Penelope Pierce
Victim's Mother:
Elizabeth Pierce (Kari Wainright)
Cop:
Officer Ruthie Guyless (Beth Groundwater)
Reporting Party:
Ms. Amelia Onlooker (Maria Faulconer)
Pathologist:
Dr. Clara de Colon (Madge Walls)
Coroner Investigator:
Racine Sharpastak (Barb Nickless)
Counselor:
Dr. Lula Wannadish (Laura Pellerin)
Victim's Roommate:
Therma Dorr (Lise Fuller)
Victim's Ex-husband:
William Love-Levam (Robert Spiller)
Private Detective:
Phineas Stump (Karl Herndon)
Court Reporter:
Donnell Bell (no named court reporter)
On April 15th, in the town of Nogoingson, Colorado, an officer responded to a call requesting a welfare check. The Reporting Party, Amelia Onlooker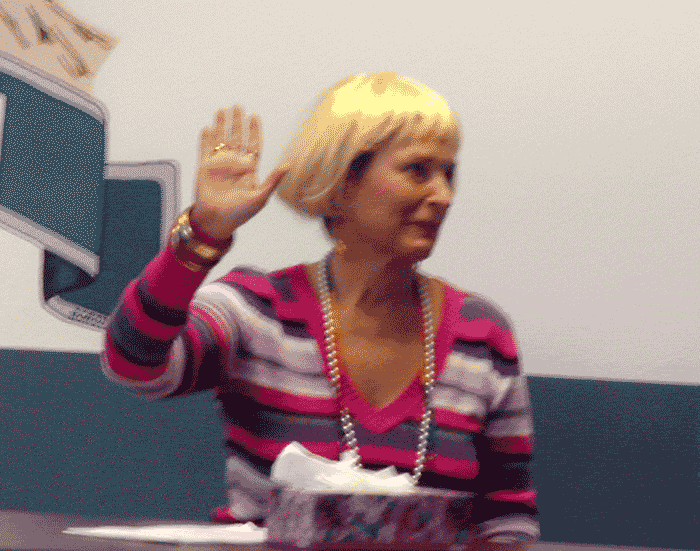 as well as the manager of the S-h-h-h apartments, said she hadn't heard any activity from the apartment next door, a rare thing, as her numerous complaints will attest – loud music and constant parties involving Penelope Pierce and Therma Dorr, tenants of Apartment 2B. Earlier that morning, Ms. Onlooker claims a noise that sounded like a car backfiring twice roused her from a deep sleep. Later, Ms. Onlooker grew concerned at the unheard of quiet and dialed 9-1-1. At approximately 7:25 a.m. an operator dispatched the Nogoingson Police.
Twenty seconds later -- as there really isn't much going on in Nogoingson -- Officer Ruthie Guyless arrived on scene. Ms. Onlooker let her into the apartment in question. Therma Dorr was found sitting on the couch, rocking back and forth and mumbling. Officer Guyless requested that a Medical Unit respond to check her out. Dorr was making random statements: "I didn't want her to die." "She was going to move out, but I didn't want her too." "She was going to go back to that bastard." Then, Officer Guyless found the terrace door open and observed what appeared to be a body on the balcony outside. Upon closer inspection, Officer Guyless determined that an approximately 30-year-old, 110 pound, female Caucasion lay on the 10' x 5' wood-slatted balcony. Guyless checked the vitals of the victim and determined that Ms. Penelope Pierce was dead. Officer Guyless then requested that the Coroner be notified to respond to the scene.
Therma Dorr was escorted outside the apartment so that EMTs could check her out. Guyless and the Coroner were searching the bedroom when Penelope's mother showed up. She rushed into the apartment, whereupon seeing Penelope's body she became hysterical. She threw herself on the body and then had to be physically removed. Mrs. Pierce was accusing the ex-husband of murder and yelling at Therma Dorr. When Mrs. Pierce saw the scratch on the decease's neck, she became incensed, insisting that this was a murder. "Somebody killed my baby."
While searching the bedroom the investigators found divorce papers that indicated Penelope and William were separated, the divorce papers had been filed but the decree not final yet. (Because of this revelation, William is Penelope's legal next of kin and Mom has no say so in any of the final decisions -- which really upsets Mom…)
Guyless did a GSR kit on Therma Dorr and she was then taken by ambulance to the hospital where she was interviewed later by Guyless.
The Coroner Investigator, Racine Sharpastak and Guyless investigated the scene together. The scene was photographed by Sharpastak. Guyless had no batteries in her camera and they agreed to share the scene photos. Unfortunately Sharpastak's camera had a bad memory card and none of the scene photos were captured.
They noted that the deceased's right arm was upright at an angle, perpendicular to her shoulder, elbow bent, her forearm lying near her head. A .22 Charter Arms semi automatic pistol was found near the door. One spent casing was found near the deceased's left foot. The gun was made safe by Guyless and then examined to reveal that the gun's clip, which could hold 6 bullets, was found to have 4 live rounds remaining in the clip. Investigator Sharpastak then determined that there appeared to be a gunshot wound to the right temple area that was consistent with an entrance wound, but no exit wound was found. No projectiles (bullets) were found on the balcony or in the adjoining walls.
Inside on the glass coffee table, the officers discovered a bottle of wine and two glasses, one containing a small amount of white wine. The bedroom was searched and drug paraphernalia (pipes) and small plastic envelopes containing a white powdery substance (meth) was found in a drawer of the nightstand along with a green leafy substance (marijuana). In the bathroom medicine chest, the prescription antidepressant Respirdol was also found. The prescription was for the deceased, had been filled just 2 weeks prior and was empty.
(Temperature was 67°)
The Coroner assumed custody of the body, (after placing paper bags on the hands for GSR testing) the body was taken to the Coroner's Office for an autopsy.
Guyless and Sharpastak went to William Love-Levam's residence to notify him of Penelope's death. He was interviewed there.
After being x-rayed an autopsy was performed by Dr. Clara de Colon. Dr. de Colon was able to determine that the wound to the right temporal area was a contact wound, consistent with a self-inflicted injury. The projectile was recovered during the autopsy and given to Officer Guyless for further testing at CBI, if needed. Another gunshot wound was found in the deceased's left groin area. This had not been visible on scene as there was very little blood. This projectile was located in the left butt cheek.
The investigation done by Guyless and Sharpastak concluded the following:
Ms. Penelope Pierce had been separated for a period of six months and was apparently despondent after her breakup with her spouse, William Love-Levam.
Immediately after the divorce Ms. Pierce moved into the apartment and resided with a female roommate, Ms. Therma Dorr. They became lovers, but Penelope hadn't told anyone that she was involved with Dorr.
Ms. Pierce had sought counseling from Dr. Lula Wannadish M.D. Nogoingson's resident psychiatrist who prescribed the antidepressant and had been treating the deceased for the last two months. Dr. Wannadish has been reluctant to share any information or records until threatened with court action.
Ex-husband, William Love-Levam claims he was in his house alone at the time of death, asleep after the previous evening of writing his memoirs. Officer Guyless ran the serial number of the .22 pistol through ATF and found that it was registered to William. He denied giving Penelope the gun, but she had been at his house the previous week asking for money.
Further analysis determined that the roommate's fingerprints, Therma Dorr, were found on one of the wine glasses, the bottle of wine and on the .22. Ms. Dorr claims that they had been arguing most of the night, at one point she tried to grab Penelope to stop her from leaving the apartment and scratched her neck with her unnaturally long fingernails. They had fallen asleep around 4 a.m. She woke up when she heard loud noises and went looking for Penelope when she realized that she wasn't in bed. Ms. Dorr found the victim with the .22 resting in her hand, and in an unthinking moment Therma Dorr picked it up, put it next to the door then went inside and started drinking.
GSR tests were done on Penelope and Therma, both were sent to CBI and both tests came back positive. CBI also did ballistic tests on the projectiles recovered from the body and the gun found on scene and they matched.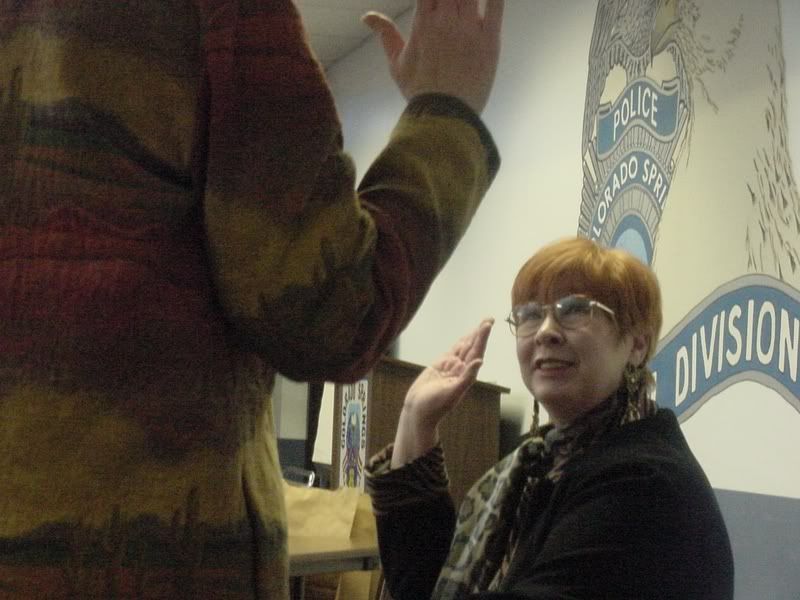 After two months, Mrs. Elizabeth Pierce the victim's mother has become increasingly frustrated at the coroner's assessment that Ms. Penelope Pierce died at her own hand. Penelope was a former model, and her mother claims Penelope would never have committed an act which destroyed her looks. Mrs. Pierce is suspicious because Ms. Dorr's fingerprints are on the gun, and therefore has demanded further investigation.
She has hired a private investigator who agrees with Mrs. Pierce that this death is suspicious.
~~~
As you can see Chris gave this writer a lot of help in preparing this skit, and my fellow chapter mates played their parts, ad libbing to perfection. Also, Chris's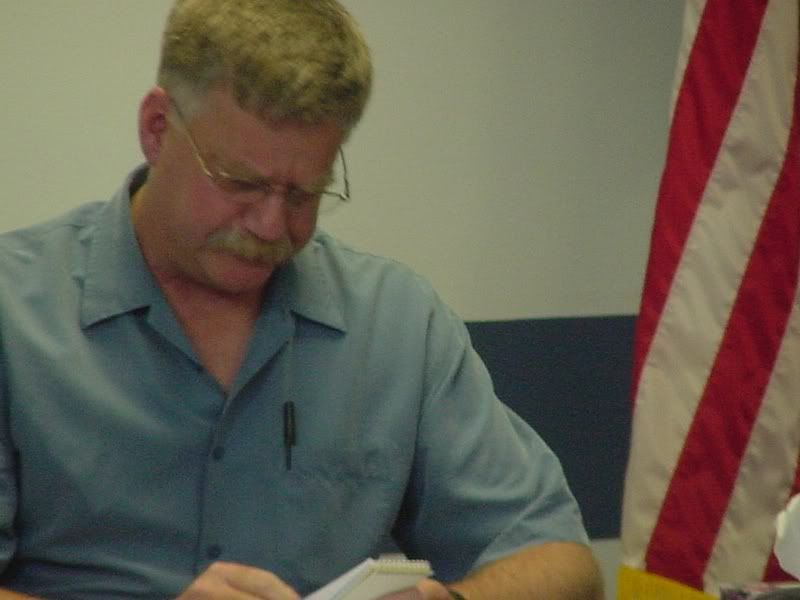 husband, Karl, a deputy sheriff for El Paso County came to our aid by playing the private detective, Phineas Stump, even to the point of handing out business cards that read Phineas Stump.
Try to Stump me, I dare ya!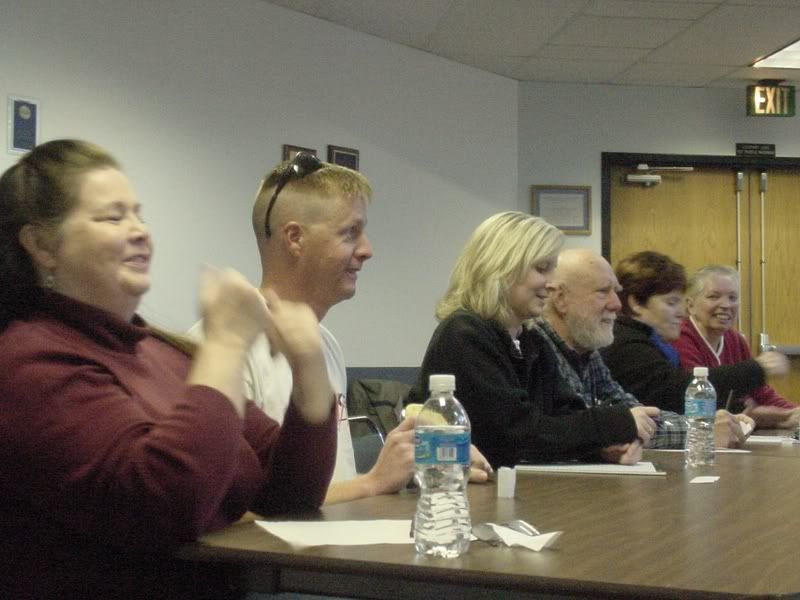 To my dear friend, Lise Fuller, this woman was such a good sport, virtually stealing the show while she played the bi-sexual roommate of the deceased, while her real-life husband, Major Tom Fuller participated in the jury.
Pictured below are a couple of our participants books.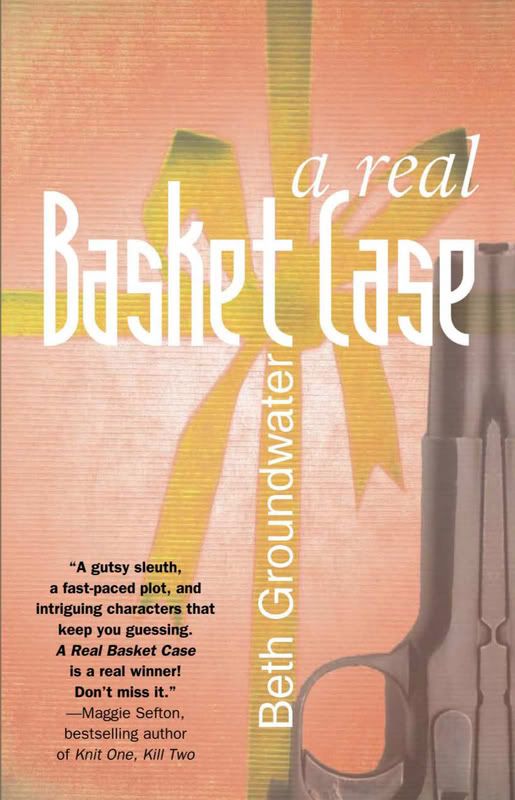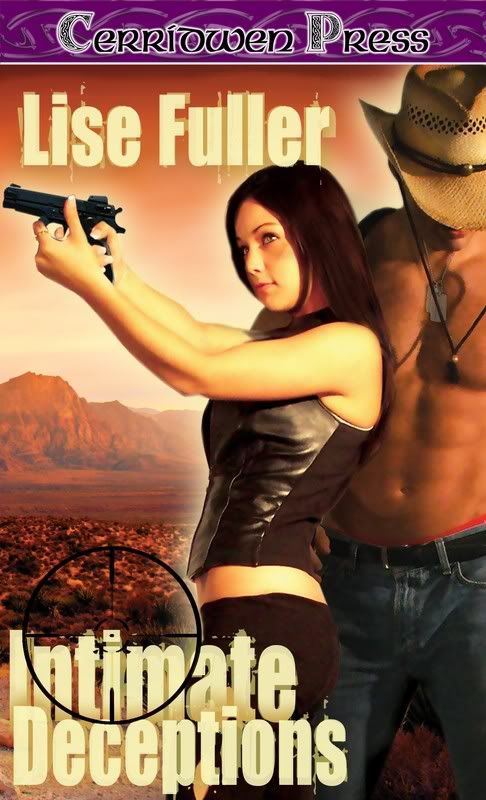 All in all, the event was educational, funny and a tremendous success.
Get involved with your local law enforcement and see if you don't agree. Many of them, like Chris, are would-be writers. I guarantee the majority are generous souls.
Donnell Ann Bell is an award-winning aspiring author, a member of Sisters in Crime, Romance Writers of America's Kiss of Death Chapter and other RWA Colorado chapters. Check out her website at
www.donnellannbell.com