by
Annette Dashofy
Ohiopyle is a quaint little town nestled in the Laurel Highlands. No major highways run through it. Or even very near it. To get to the town, you must drive down some windy mountainous roads that appear to follow paths originally used for goats. During the week, the place is relatively quiet. But on holidays and weekends, folks flock to the small town in droves. Why? Well, for me, it's the bike trails that follow an old railroad bed along the Youghiogheny River. Scenic doesn't begin to describe it. Most people, especially young, adventure-seekers come for something else.
Whitewater.
Home to more than 14 miles of some of the best whitewater rafting in the Eastern US, Ohiopyle draws both young and old into its state park where you can pay any one of several outfitters to take you out, either in a raft or a kayak. This river is nothing to sneeze at. People have lost their lives. Especially at the notorious
Dimple Rock
.
More dangerous still is the 18 foot waterfall in the heart of Ohiopyle. Just a little over two months ago, a man was swept over the falls, his
body recovered
days later. The challenge of surviving an intentional trip over the falls calls to many, but alas, it is illegal to go over the falls at Ohiopyle.
Except for one day a year.
The Over the Falls Festival
.
Last weekend, there wasn't a parking space for miles. Buses rolled into the village and vendors set up booths in the park.
We had the foresight to arrive early enough to both find a parking spot—in the shade, no less—AND to watch the practice runs. It was incredible.
People do this ON PURPOSE. Some made it look easy, landing right-side-up and gliding away. Others (MOST) weren't so lucky.
There were rescue personnel and volunteers everywhere. Amazingly, no one was seriously injured (unless you count their pride) while we were there. I did witness the rescue crew tossing lines to one unfortunate soul who got caught in some smaller rapids upstream. And I heard there were others who needed pulled out from that same spot.
This guy needed a shrink.
In fact, in my opinion, that could be said about most of the men and women who participated in the event.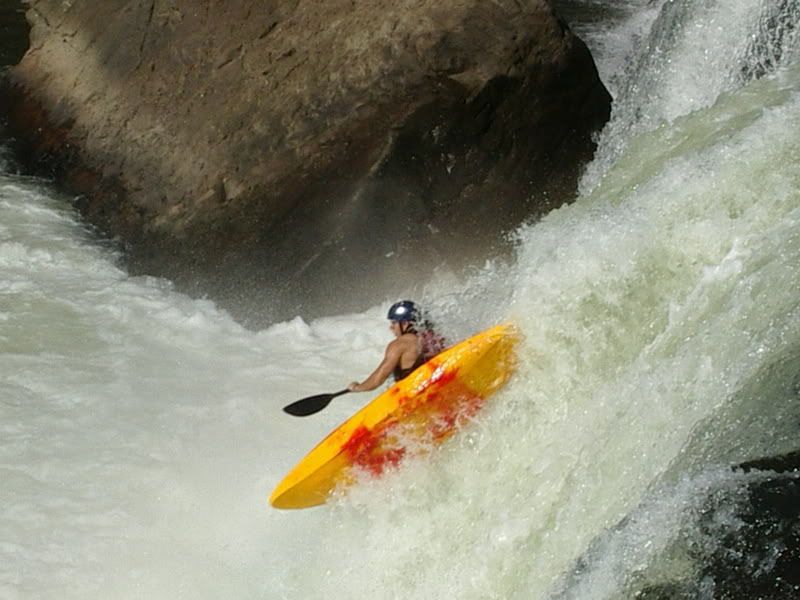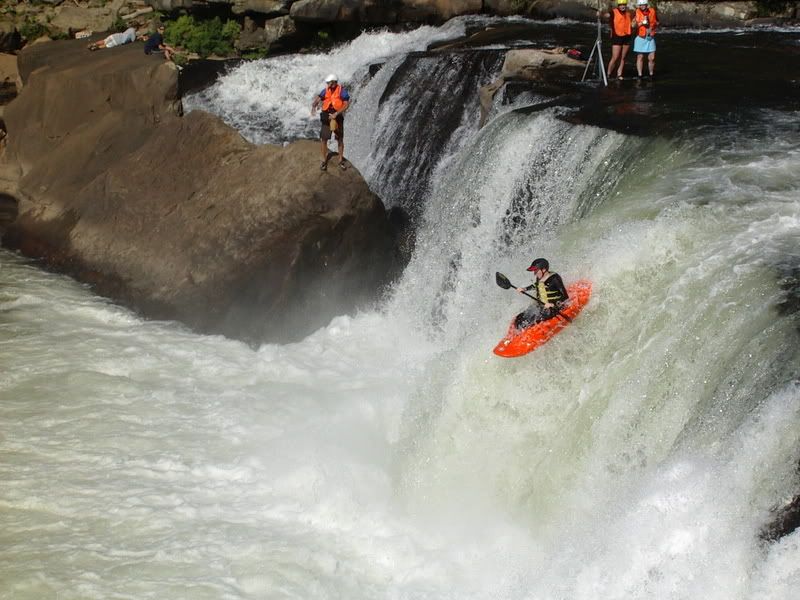 But somehow, I suspect most of them will be back next year. I know I hope to be there again, too. However, I will be safe and dry on the observation deck, searching for a good camera angle.
(As you read this, I am away on vacation, so I won't be able to respond to questions or comments. Feel free to chat among yourselves and I will be back next week.)