by
Annette Dashofy
When I was in fifth or sixth grade, our grade school took my class on a field trip to the
Carnegie Museum of Natural History
in Pittsburgh. In hindsight, they must have been insane, setting a bunch of prepubescent country kids loose in the city. At the time, it was one of the best days of my young life. I'd never been to the museum before.
My best friend and I wandered the massive structure in search of one display in particular.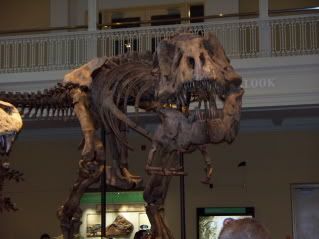 Dinosaurs.
But we couldn't find them.
I remember stopping at the museum gift shop to ask if they had dinosaur bones. The sales clerk thought we meant for sale and said no.
What? A museum with no dinosaur bones?
I don't remember how, but we did eventually find the dinosaur exhibit.
I've been to that museum many times since then. We make a yearly winter pilgrimage into the Oakland area of Pittsburgh for our annual visit. Why winter? We have summer activities (biking, horseback riding, outdoor activities in general). But in the winter, we move to indoor activities. Like museum hopping.
My first stop is almost always the dinosaur exhibits to see the dinosaur bones.
The Carnegie recently revamped the dinosaur exhibit. Somehow, they determined they had some of the beasts standing upright that should have been on all fours. Or visa versa. I don't know or care. They're all damned scary regardless of their stance. This was my first visit since the exhibit re-opened. Here are a few of the dinosaur bones we saw.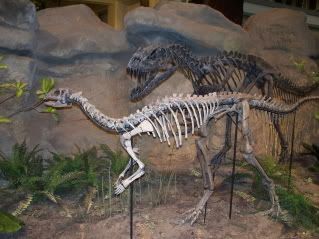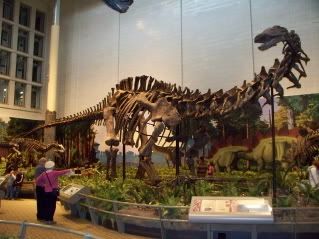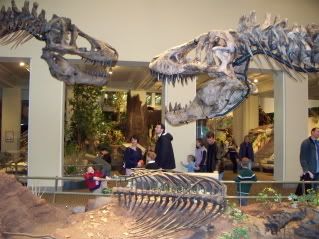 With my love of dinosaur bones, you may find it surprising that I've never seen the movie Jurassic Park or even read the book. Why? The bones scare me enough! I don't really want to experience that time period or any of the creatures from it with flesh covering those skeletons.
No thanks.
So do you love dinosaurs? If so, how far back can you trace that passion? I remember having a plastic brontosaurus bank courtesy of our local Sinclair gas station. Now Sinclair has gone the way of their mascot. Except the oil company doesn't have an exhibit in the Carnegie Museum.
If you don't particularly care for dinosaurs and their bones, do you enjoy hanging out in museums? Which exhibits do you make a beeline for?