by
Annette Dashofy
I'm composing a list of new laws that should be enacted. I'm not saying they will be. Or that it would matter. People break the law all the time. But either I'm getting cranky in my old age or society is getting ruder and I'm fed up with it.
So here's what I've come up with so far:
Pedestrians vs. motor vehicles in inclement weather—persons in motor vehicles in
parking lots must yield to pedestrians when the weather sucks. Be it snow, bitter cold, or wind and heavy rain, if you are in your car, you are dry and warm. The mom with two little kids in tow waiting to cross in front of you is not. Stop and let her go!
Children in restaurants—at no time should a child be permitted to run loose in a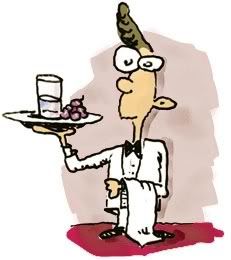 restaurant unless they are in a play area such as at McDonalds. In a real restaurant, a kid running free because the parents can't bring themselves to deal with their little darling another moment is likely to trip the waiter who is carrying around large trays of hot food and beverage. Such a trip can potentially cause grave injury to whomever ends up wearing the soup. That probably won't be the child because they're too fast and will be gone before the china hits the floor.
Long check-out lines—if only two check-out lanes are open and the line for both stretches back into the merchandise, the store manager should be required to open up additional lanes or face stiff fines and penalties.
Illegal cart parking—okay, yes, I'm dumping on retail establishments, but that is where I tend to get the most annoyed. People who leave their shopping carts unattended in the middle of a narrow row so that no one can get around them without physically moving the unattended cart should be ticketed and fined.
Addendum to illegal cart parking—people who double park their carts in the middle of a crowded aisle to visit with a long-lost pal while oblivious to other shoppers trying to either get around them or trying to reach a product that they are blocking should also face penalties. Find a wider aisle for your chat or, better yet, arrange to meet at Starbucks later.
Okay, that's a start. Now it's your turn to add to the list. What offensive offenses would you like to see outlawed? What bits of common courtesy need to be legally required?
We'll worry about how to actually enforce these new laws in another blog.